January 30th, 2018
The Chatterbox;news and views from The Coffee Den.
Plenty of "Chit Chat", anything we want to "Shout Out" about and occasional "Juicy Gossip"!
Published occasionaly and dosen't cost a bean !
Orange and Coffee Liquer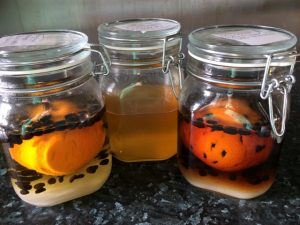 I came across this recipe and couldn't resist trying it out. Very straight forward; orange, coffee beans, sugar and alcohol in a jar and left for a while! No previous experience required, adjust according to taste – and i do keep tasting a sip here and there and have made a few adjustments!
Recipe taken from 'The Flavour Thesaurus' by Niki Segnit – great book for cookery enthusiasts.
MANCHESTER COFFEE FESTIVAL – formaly known as 'Cup North'
We popped down to Manchester and flew back after sampling some fabulous coffees made by fellow northern coffee roasters …. and one or 2 rougue southerners had managed to book a stall too! If you have never been to a Coffee Festival then i reccommend it goes on a 'to do list'. It's an ideal way to sample a variety of brews,have a go at 'Cupping' and generally just soak up the coffee vibe. There are always lots of other coffee related products to peruse eg milks, chocolate, tea and errrr……. i came home with some peanut butter!!
Early Bird Tickets are on sale now for The London Coffee Festival 12 – 15 April 2018
Read More [https://www.londoncoffeefestival.com/]
THE HAMPER TREE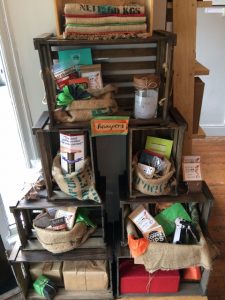 It will look more like a tree as of 1st December, but you can get the idea! Just a reminder that last posting date is wednesday 20th Dec for Christmas Coffee. More gifty items do keep being added to the shop, the latest being Storm Tea and Gift Vouchers to be used in The Coffee Den.
Read More [https://www.mrduffinscoffee.com/shop-online/]
COFFEE PLANTS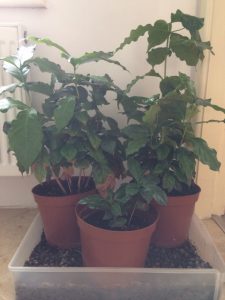 Just a quick update for those of you who have been following The Coffee Plants. Positioning them on a sunny window sill has brought them on a treat, combined with regular watering! The tallest plant has grown @ 15 cms since April. The dilema now is that they need re potting and should i thin them out? And if that is the case where am i going to put all these plants!!
Ahh Christmas gifts maybe?
« Back to the Chatterbox