The Chatterbox; news and views from The Coffee Den.
Plenty of "Chit Chat", anything we want to "Shout Out" about and occasional "Juicy Gossip"!
Published occassionaly and doesn't cost a bean !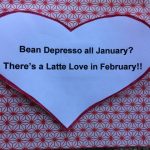 LATTE LOVE
A little love from us to you as it's February – 10% DISCOUNT on all coffees until end of Feb. Simply use the code Latte Love at the checkout on line.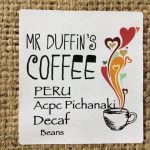 DE-CAFFINATED Coffee
ACPC Pichanaki – Peruvian Decaffinated Coffee. Our customers in the shop tell us it's the best De Caff that they have ever drunk and some even ask to check that we haven't given them full caffeine by mistake!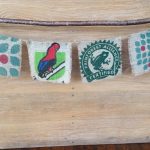 COFFEE BAG BUNTING
A quick and easy decoration for the windows –
the shop felt bare after taking down the Christmas decorations.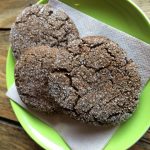 Coffee cookies
Keeping up with the current 'Vegan' trend i did a little experimenting in the kitchen and came up with these cookies. I substituted the rice flour for coffee grounds, which kept the graininess but also added flavour – then dipped in cinnamon and sugar made them quite tasty. Definately a healthier alternative to the usual high sugar biscuits and cakes.