Firstly apologies for being behind with this latest edition of The Chatterbox.  It is with good reason, we have opened our roastery to the public….and it has been the school holidays and we've been selling our coffee and ice cream at festivals!
Initially behind darkened windows it was merely 'juicy gossip' in the village as to what or who was moving into the vacant premises on Staveleys Main Street, next to the Spar Shop. It took 4 weeks of hard graft to transform the old Starlys Spice shop into Mr Duffins Coffee Den.
Why the move? Well, we wanted to 'Shout Out' about our coffee, spill the beans and share the love of coffee! Also the Giesen coffee roaster is a fine piece of equipment and deserves to be on show. The thought of moving  it was a little stressful but once underway it went very smoothly – thanks to some helping hands. Just the other day  a Dutch customer  who was resting whilst walking The Dales Way couldn't resist commenting on the quality of the machine and also correcting my pronunciation of 'Giesen'!
This was an ideal  opportunity for us  to offer the coffee for sale whilst we are on hand roasting and packing. And of course it provides an outlet for my cooking and crafting projects.
The premises are warm and inviting, once inside it's easy to relax and while away the day – watching the roaster in action or the village life passing by. The décor is a combination of industrial and up-cycled with a professional finish! As we have had so many compliments about the finished look it is only fair to give credit to those responsible – Andy Smith – Special Spaces, Gary Naylor – Staveley – Electrician, Lee Anderson – Joiner, Simeon Noble –  Staveley Gas Services, Linda Anderson – Interiors, Chris Nelson –  CN Metals, Mike  – Ormrod Signs and David & Jason the Mill Yard Handy Men.
Given that the village already has plenty of eaterys we are sticking by our ethos of being a Coffee Roastery with a piece of cake! For the time being I'm sharing the baking amongst the locals  – Sarah  – Thelma the Tiny Tea Room, Cumbrian Artisan and myself.
Ahh yes the aprons – never has an apron been so much admired! These are the handywork of Martin @  Slow Loris Textiles. Made from hemp they wear beautifully and the finishing touch of the embroidered logo was thanks to Gillian Hartley –  design@belleandgrace.co.uk
And so to the coffee, Mr Duffin now has the opportunity to roast all the single origins and  share  his enthusiasm with the customers. These have been very well received as people are loving the opportunity to try a new variety. Currently, while we get established and adjust to our new working space we are offering coffee made on the espresso machine. However there are plans to offer other brewing methods and probably some fun evenings of tasting and slurping!
CAFFIENE COOKS
I found this recipe in Elizabeth Davids 'Italian Food' and thought it sounded pretty yummy and worth a try. It's certainly very quick and easy to prepare.  At the time I didn't have a sieve to hand and thought it wouldn't matter, however I was left with a few white lumps which were not pretty but did not effect the flavour!!
Ricotta al Caffe – Cream Cheese with Coffee serves 4 people
8 – 10 oz Ricotta ( or cream cheese )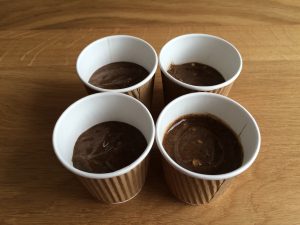 4 – 60z castor sugar
2 – 4 dspn freshly roasted coffee, very  finely ground       
2 oz rum
Sieve the cheese, Add sugar, coffee and rum. Stir until smooth and thick. Put into small pots and put in fridge to set. Make 2 hours before serving to allow coffee flavours to develop. Keep in fridge. Serve with fresh cream and thin wafer biscuits.
Or in our case eat straight from the pot!
PLANT LIFE
Based on the amount of new growth the Coffee plants continue to thrive well in the bathroom. I have removed the plastic cover during the summer months. There appears to be a few brown tips on some of the leaves, is this an indication of 'not thriving'? I shall just have to wait and see if the whole leave turns brown and dies.
CRAFT CORNER
Keeping with the 101 uses of a coffee sack theme, I couldn't resist the opportunity to wall paper the toilet! It needed a make over and here it is!
Having never wall papered before it was a messy experience and my only tip is that I needed plenty of paste and a large brush. I couldn't resist getting the sewing machine out and creating a couple of pictures to decorate the doors.
TRIVIA
It takes 5 years for a coffee tree to reach full maturity, although it may flower from 3 years and can live up to 100 years old.