COFFEE GROUNDS
Our son Max was given a 'Grow Your Own Mushroom Kit' for Christmas from his Aunty. He was not impressed – he doesn't like mushrooms!! However his parents were thrilled, having seen a T.V documentary about growing mushrooms on coffee grounds.
Max decided to embrace the growing project and set to following the instructions. It claimed on the box to be very easy and growth would be rapid……and it was. On day one after the initial soaking the first signs of growth appeared. That was it, they were off, growing before our eyes on occasions I swear I could see them moving!!
Max had the glory of harvesting the crop – rather meagre weighing in at 79 grs. Steven and I had the pleasure of eating them – rather disappointing. They resembled over cooked squid or for those of you unfamiliar with the typical deep fried Spanish dish an elastic band would substitute nicely!!
I have since done a little research to pursue this idea further. It would appear to be a fairly common project as the mushroom spores are readily available to buy and there are plenty of used coffee grounds to be had. I did read that one grower claimed the mushrooms tasted of bacon when cooked for a long period of time ….. mmmmm now that sounds promising.
I also discovered quite a few other uses for coffee grounds used and fresh – around the house, in the garden and for body care. I will share my favourites, you can 'Google' more yourself if interested.
GARDEN – Hydrangeas, will give bright blue flowers when grounds added to compost of dead leaves and grass, sprinkled around the base of plant.
HOUSE – Fresh coffee grounds are odour eaters – make your own air freshener using nylon tights; hang in the car, place in shoes or put in a dish and place in fridge.
BODY – wet used grounds will remove hair products residue, massage into hair before shampooing. ALSO a flea repellent for dogs and cats, massage into coat after shampooing then rinse off……..Just a thought wonder if it works for head lice ??
CRAFT – as a water colour paint, lovely sepia effect.
CAFFEINE COOKS
Keeping with the theme of Coffee Grounds …… Try these 'Buzz Bites'
1 cup oatmeal – I ground porridge oats     1/2 cup ground flax seed      1 dessertspoon ground fine coffee
1/2 cup peanut butter       1/2 cup honey or agarve
1/2 cup grated choc        1/2 cup chopped cranberries     1/2 cup coconut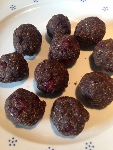 STIR – oatmeal, flax seed & coffee grounds together. ADD – peanut butter & honey. COMBINE – Choc Chips & Cranberries. CHILL – for 20 mins in fridge. ROLL – into balls & store airtight container.
Kids not keen on these!!
PLANT WATCH
The coffee plants have become a permanent feature in the bathroom! This is the only place in the house that is vaguely close to ideal growing conditions. Firstly they needed a water filled pebble tray to help with humidity, fortunately in the village there is a garden nursery 'Inglefield Speciality Plants', who were able to provide me with some replica volcanic rock. They also gave me compost and suggested re -potting as there are 10/12 well developed seedlings in each pot. The plants should be positioned in bright light, free from draughts (I felt the plastic bag would help) and temperature not less than 18 degrees. We have turned the under floor heating up to 22degrees – much to the kids delight!!
Some of the plants have signs of new growth – others have leaves that have become discoloured and dropped off …….oh dear!!
Fancy growing your own – check out www.edenproject.com & www.notonthehighstreet.com
CRAFT CORNER
No 5 up – cycled coffee sack is a 'Runner' to protect the top of the piano. It's lined with fleece on the underside, nice and soft! I wanted to decorate it with ribbons & buttons even some embroidery!
TRIVIA
Why are coffee grounds like kids ?
Because they are always getting grounded!!